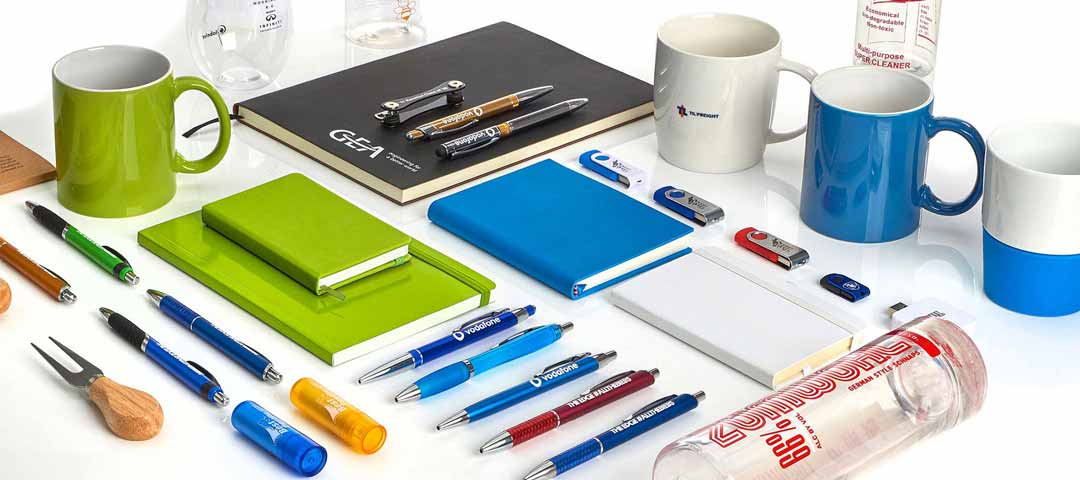 Want to be first choice for your customer?  Give them something tangible to remind them of you over and over again.  Promotional products are a form of repetitive marketing… the more your market sees your brand, the more likely they are to contact you for your services.
"There is an unlimited number of everyday items that can be customized for a brand – portfolios, magnets, keyrings, calendars, notepads, cellphone accessories… the list is endless" – says Michelle Weaver, owner of Forward Promotions, a distributor of promotional products.
Here are some awesome promo ideas to help increase your visibility.
1. T-Shirts
"Tees are still tops when it comes to flexing a brand's marketing muscle – in 2017 they accounted for 15% of distributor sales. That figure also represents the largest market share for any promotional product over the past decade. T-shirts are a standard, but they're effective, turning anyone who wears them it into a billboard for your company. "(1)
2. Pens
Everyone needs them & they can end up in the hands of several potential customers.  A promotional pen may just be the most cost-effective advertising tool you have when measured on a cost per impression basis.
3. Bags
Backpacks and promotional bags are welcomed by recipients because they are useful products.
Bags, especially totes, are always in demand.  They are a top seller at Forward Promotions.
4.  Reading Glasses
Reading glasses are a unique and practical promotional product. There are several cost-effective options that are easy to print with your message.
5.  Fidget Spinners
They are one of the trendiest items right now.  Some of them even light up!
6.  Food
People love to eat!
Food can be expensive at a tradeshow.  Try Oats & Honey Granola Bar Hang-Itz that attaches to a water bottle, potential customers will remember your generousity!
7. Tech Products
We live in a digital world – power banks, flash drives, and blue-tooth items are a hot commodity!
8. Tumblers
Not just for coffee anymore… Tumblers are the best go-to promo product out there.
---
Always choose your products based on your audience and the point of distribution.